Do you know what BPMS is?
Read a report from a user below… if there's any similarity to your company it's not mere coincidence.
"In our company, we mapped processes with a traditional market software.
The documentation took days (even weeks or never) to create and was confusing when made into Word files.
As for the automation of processes and availability of KPIs, phew … what a lot work to create the systems and programs for this …
Just making a form needed a few programmers and dozens of hours to be produced.
And then, tests and more tests, fixing "bugs" and a lot of other flaws.
I don't even want to think about it. In the end, it was just easier to change e-mails.
Until one day I heard a magic acronym, with only 4 letters: BPMS."
In this post I will explain all the concepts of BPMS and you'll see that changing the management of a company is not impossible with this technology.
Check out our blog: Innovations in BPM: From Continuous Improvement to Disruptive Innovation
Business Process Management Suite: The Advantages of BPMS
Man and machine integrated with diverse technologies so that time invested with company information flows could be strategically optimized.
This is due to Business Process Management Suites.
To create the effective and logical sequence of events in an organization, you need a Business Process Management (BPM) System.
This software, when it brings together several tools and functionalities inherent in BPM, is called BPMS.
It can analyze, map and model processes, generate documentation, provide real time performance indicators and automate.
Everything you need in your company!
Know more: The 10 Pitfalls of Email Task Control
Stages of Business Process Management
You already know this, but when you do it with a Business Process Management Suite – BPMS, everything is easier!
Step 1: Analysis
Study the process in its current state and design it with the help of BPMS software, which is actually a set of specific BPM software, a "suite" as the name says.
Standards, internal manuals, reports etc. Collect all the information about processes, activities and tasks and create the first version of the processes, called "AS IS".
Step 2: Redesign and Modeling
With the same software, you can model the new process. After you have detected bottlenecks, wastes, delays and other points of improvement, you can create the new process model.
This is called the "TO BE" model.
Ah! And let's not forget, a Business Process Management Suite can create documentation automatically with complete process evolution traceability.
Step 3: Automation and execution
If you think you just have to document your processes and then do nothing… Don't waste your money 🙁
The BPM project only ends when you automate the process, this is effective process control.
Forget the "ISO" and think about the "USE" of the management tool!
So … how do you automate the process now that you have a model of it?
Very easily: the BPMS software itself has everything ready to perform this.
Traditionally, systems developers take care of automation, but with BPMS everything is much easier.
On the very structure of the process diagram, you can execute intuitive, drag-and-drop commands, and therefore complete automation quickly, allowing you to use the process.
Responsibilities, deadlines, forms, deviations and integrations. These are examples of settings that you perform in this step.
Step 4: Monitoring
Easy-to-interpret dashboards will soon be providing the data you need to know if the improvements in the processes are really giving you the improvements you want.
Graphics, listings and gauges. Imagine this on a manager's screen or on a TV so that all staff can follow performance!
Step 5: Optimization
Based on the results you achieve, you return to the process diagram you modeled in the BPMS and look for new ways to continue to improve continuously.
And all this without having to change BPM tools even once!
At this stage it's important that your BPMS has process versioning capabilities. With this, it's possible to evolve your process without losing change history (traceability). You won't be concerned about maintaining change requests and different process versions, which is impossible with traditional systems development.
Therefore, by following all these steps it's easy to deploy true continuous improvement, along with management through results and efficient KPIs.
8 Features all BPMS must have
If you want to achieve these same results in your company, then check out these 8 features that a good Business Process Management Suite should have:
1- User-friendly process design interface
Don't get stuck with programmers, everyone in your organization should be able to create their own workflows. This is called Low Code BPM.
2- Simplified creation of process diagrams
A good tool for creating process diagrams should include many BPMN symbols to choose from, a drag-and-drop system, and an organized and pleasant layout.

3- Cloud-based storage
A cloud BPM tool costs less, has no maintenance, is more agile, and is safer than an on-premise model.
Read also 7 features all workflow automation software should have.
4- Integrated reports and dashboards
The best BPMS have reports that you can customize to track any item, user, or task with a click of your mouse.
5- Real-time notifications
Customizable automated notifications will keep attendees on the same page and alert you to new tasks.
6- Flexibility in creating processes
Some process flows can be complicated and require formulas, conditional steps, parallel details, and detailed reports.
A good Business Process Management Suite has the ability to do these, as well as easily automate them.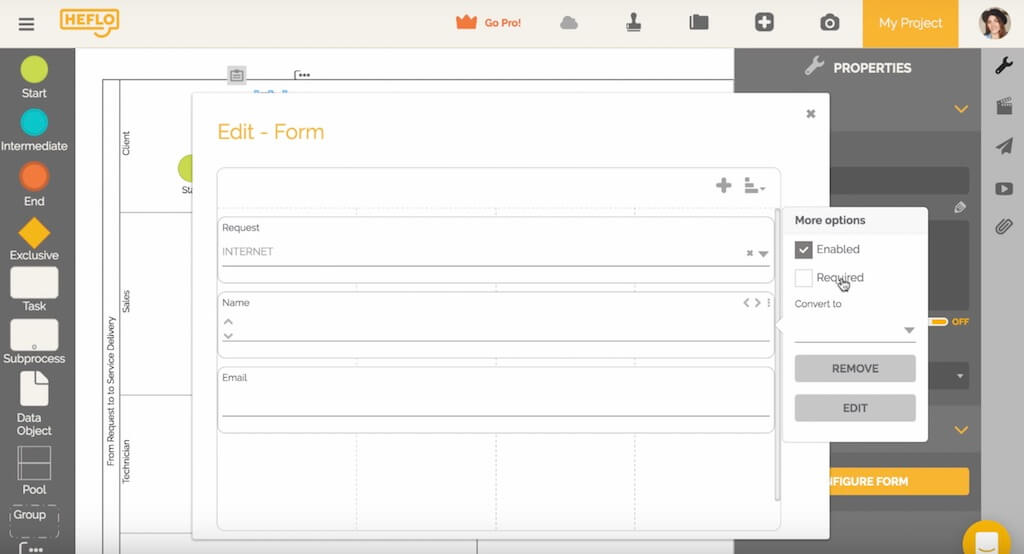 7- Integration potential
A BPM tool should have easy connections to common platforms and APIs for custom integrations, in particular REST type web services.
8- Investments that compensate cost benefit
Choose an option that the company can pay in a monthly amount, to get lower prices and an expense consistent with the size of the organization.
Ideally, SaaS BPMS models.
So, now that you already know all about Business Process Management Suites, check out a little of what you can enjoy from our company: